We've Combined Two Technologies
We provide superior disinfection services with the coverage ability of STERAMIST IHP™ and the power of UVC Cleaning Systems.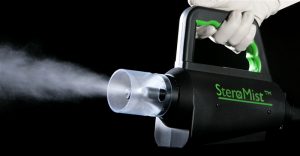 STERAMIST is powered by Binary Ionization Technology (BIT) offers routine disinfection for a wide variety of residential & commercial settings.
Great for frequent use, STERAMIST BIT does not contaminate the environment with any toxic byproducts making it ideal for disinfection in hospitals, educational facilities, municipalities, athletic clubs, senior living facilities, child care centers, multi-unit buildings, and more.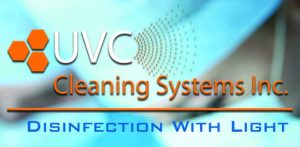 UVC light unit inactivates microorganisms by absorption of radiated electro magnetic energy which causes a photochemical reaction that alters the molecular components essential to cell function.
High touch areas like electronic equipment in hospitals or laboratories are difficult to spray down with bleach. UVC energy contacts all the exposed surfaces including the hard to get places.
Smart
Intelligent UVC dosing technology takes into account environmental variables of the treatment area, delivering an accurate and reliable dose of germicidal ultraviolet C energy every time
Safe
Complete coverage with environmentally safe products and UV light only harmful to microorganisms.
STERAMIST and/or UVC light units are set up in an area and remotely activated.
effective
No touch disinfection techniques take the human error out of terminal cleaning of healthcare facilities, residential and commercial buildings.
SITE SURVEY
Assess EVS Processes
& Procedures
Evaluate Labor Resources
Ensure Safety Compliance
FACILITY TRAINING
Customized Standard
Training Tools:
Webinar
Manuals
Quick Start Guides
ON GOING SUPPORT
Improving SIR Scores
Web Based Monitoring
Preventative Maintenance Monitoring